News and Updates
Hypertension Update : Efficacy of Combination Therapy with Amlodipine & ARBs in Asian Hypertensive Patients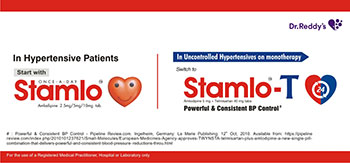 Hypertension (HTN) is a major risk factor for cardiovascular mortality across the globe. There are several studies that have compared the safety and efficacy between different antihypertensive classes; however, in-class comparisons of calcium channel blockers (CCB) in combination therapy with angiotensin II receptor blockers (ARBs) are still lacking in Asia.
The present study, published in the International Journal of Hypertension, sought to compare the efficacy and safety of amlodipine along with various ARB combination therapies and amlodipine monotherapy for the treatment of HTN among Asian patients.
Investigators identified Asian randomized controlled trials from PubMed and Cochrane Libraries to inform a network meta-analysis. The primary efficacy and safety endpoints included short-term (8-12 weeks) treatment response and treatment-emergent adverse events, respectively.
Overall, 1198 Asian HTN patients from seven studies were included in the analysis. The studies involved six amlodipine+ARB combination therapy, including telmisartan and other ARBs. In comparison with amlodipine monotherapy, the combination therapies of amlodipine+ARB were found to have greater likelihood of prompting a treatment response, with the ORs ranging from 5.2 to 2.0. Amlodipine+Telmisartan combinaton therapy had an OR of 3.3 for prompting a treatment response, compared to amlodipine monotherapy. All amlodipine-ARB combination therapies had safety profiles comparable to amlodipine monotherapy; however, Amlodipine+Telmisartan was associated with significantly lower odds of treatment-emergent adverse events (0.26).
Amodipine-ARB combination therapies thus compared favorably to amlodipine monotherapy regarding short-term treatment response in uncomplicated HTN patients of Asian origin.
Source: Lee DW, Jung M, Wang HW, et al. Systematic Review With Network Meta-Analysis: Comparative Efficacy and Safety of Combination Therapy With Angiotensin II Receptor Blockers and Amlodipine in Asian Hypertensive Patients. Int J Hypertens. 2019 Nov 11;2019:9516279.
HTN: Hypertension, ARB: Angiotensin II Receptor Blockers, OR: Odds Ratio
To comment on this article,
create a free account.
Sign Up
to instantly read 30000+ free Articles & 1000+ Case Studies
Create Account
Already registered?
Login Now